BBQ Gazebo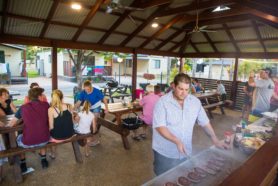 You and your friends are going to love our BBQ Gazebo where you can meet like minded travellers and holiday-makers.
Two large hotplates
Free BBQ's
Plenty of seating for small and large groups
Overlooks the pool and playground areas.
After using our BBQ Gazebo, guests are welcome to head over to our Camp Kitchen to wash up.